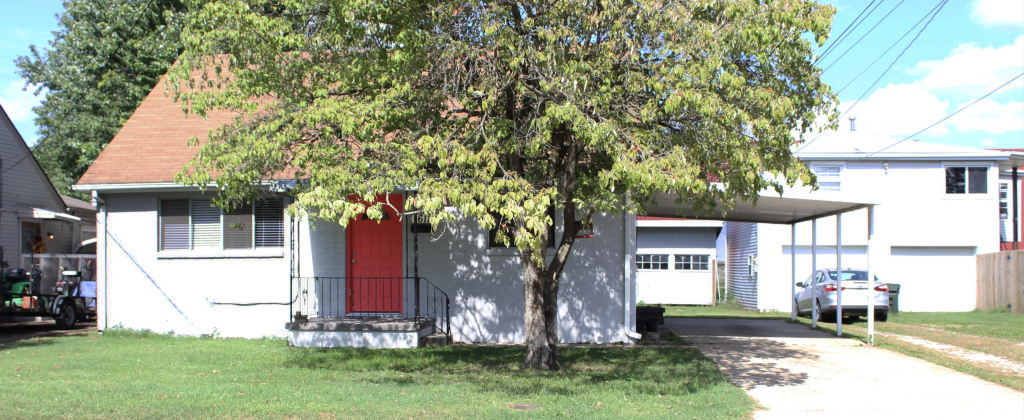 White Brick Home, Antiques, Jewelry, Glassware, Tools
1611 West 12th Street, Owensboro, Kentucky
---
Auction Info
Real Estate Sold for: $63,000
Four bedrooms - Full and Half Bath - Antiques - Jewelry - Glassware - Tools
Auction Features
Features include:
50' X 98' Lot
Main Level:
Living room, kitchen, two bedrooms, full bath.
Upstairs:
Two bedrooms, half bath.
AUCTIONEERS NOTE: This is a great home in an excellent location. The antiques are still coming out of the woodwork, so this is very much a partial list. Keep an eye on kurtzauction.com for more photos as we uncover more and rarer finds! To see the property contact Amy Whistle, auctioneer.  
ANTIQUES-JEWELRY-GLASSWARE-TOOLS: Oak vanity cabinet, cast iron stool, vintage vanity chair,  large collection of vintage beaded purses, ladies hats, Owensboro advertising pieces, art deco and victorian framed art, antique lamps, tobacco jars, art deco powder jars, wall pockets, Carnival Glass, Vaseline glass, Hobnail glass, Fenton, pink depression glass, hand-painted china, Currier and Ives plates,  mustache cups,  paperweights,  string holders, cookie jars, Majolica, ephemera, stoneware  crocks, cast iron items, Conservo canning machine, wooden bowls, Lance candy jars, Vantine's perfume bottle, White Mountain ice cream machine, flatware, picture frames,  LARGE collection of costume, silver, and gold jewelry, (including Eisenberg & military rings) vintage hair accessories, advertising pieces, blue canning jars, smoking stands, Black Americana, tobacco pipes, coffee grinders, revolver starting gun, license plates, Victrola, record players, miniature Coca-Cola style table and chairs, Boy Scout Bugle,  hand tools, vices, welders and more.
JEWELRY IS STORED OFFSITE 
For more information contact Amy Whistle, auctioneer 
Owner: Connie Cook and Karen Pippin, Heirs of the Bill and Marie Cook Estate
Terms: Real Estate- 10% down at the auction, balance by December 10th,  2018 Personal Property must be paid in full at the auction with cash, check, debit or credit card.  Bidders have ten days prior to auction for lead-based paint and other inspections.
---
Map
1611 West 12th Street, Owensboro Kentucky
Contact
Amy Whistle
CAI, Auctioneer/Agent
Office:
270-926-8553
•
Contact Auctioneer